Charles H. Spurgeon – Excerpt from a sermon preached December 11, 1859
THE true minister of Christ feels impelled to preach the whole truth, because it and it alone can meet the wants of man. What evils has this world seen through a distorted, mangled, man-moulded gospel.
What mischiefs have been done to the souls of men by men who have preached only one part and not all the counsel of God! My heart bleeds for many a family where Antinomian doctrine has gained the sway. I could tell many a sad story of families dead in sin, whose consciences are seared as with a hot iron, by the fatal preaching to which they listen. I have known convictions stifled and desires quenched by the soul-destroying system which takes manhood from man and makes him no more responsible than an ox. I cannot imagine a more ready instrument in the hands of Satan for the ruin of souls than a minister who tells sinners that it is not their duty to repent of their sins or to believe in Christ, and who has the arrogance to call himself a gospel minister, while he teaches that God hates some men infinitely and unchangeably for no reason whatever but simply because he chooses to do so. O my brethren! may the Lord save you from the voice of the charmer, and keep you ever deaf to the voice of error.
Even in Christian families, what evil will a distorted gospel produce! I have seen the young believer, just saved from sin, happy in his early Christian career, and walking humbly with his God. But evil has crept in, disguised in the mantle of truth. The finger of partial blindness was laid upon their eyes, and but one doctrine could be seen. Sovereignty was seen, but not responsibility. The minister once beloved was hated; he who had been honest to preach God's Word, was accounted as the off-scouring of all things. And what became the effect? The very reverse of good and gracious. Bigotry usurped the place of love; bitterness lived where once there had been a loveliness of character. I could point you to in­numerable instances where harping upon any one peculiar doc­trine has driven men to excess of bigotry and bitterness. And when a man has once come there, he is ready enough for sin of any kind to which the devil may please to tempt him. There is a necessity that the whole gospel should be preached, or else the spirits, even of Christians, will become marred and maimed. I have known men diligent for Christ, labouring to win souls with both hands; and on a sudden they have espoused one particular doctrine and not the whole truth, and they have subsided into lethargy. On the other hand,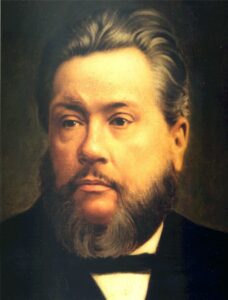 where men have only taken the practical side of truth, and left out the doctrinal, too many professors have run over into legality; have talked as if they were to be saved by works, and have almost forgotten that grace by which they were called. They are like the Galatians; they have been bewitched by what they have heard. The believer in Christ, if he is to be kept pure, simple, holy, charitable, Christ-like, is only to be kept so by a preaching of the whole truth as it is in Jesus. And as for the salvation of sinners, ah, my hearers, we can never expect God to bless our ministry for the conversion of sinners unless we preach the gospel as a whole. Let me get but one part of the truth, and always dwell upon it, to the exclusion of every other, and I cannot expect my Master's blessing. If I preach as he would have me preach, he will certainly own the word; he will never leave it without his own living witness. But let me imagine that I can improve the gospel, that I can make it consistent, that I can dress it up and make it look finer, I shall find that my Master is departed, and that Ichabod is written on the walls of the sanctuary. How many there are kept in bondage through neglect of gospel invitations.
Source: Iain H. Murray, Spurgeon V. Hyper-Calvinism: The Battle for Gospel Preaching (Carlisle, PA: The Banner of Truth Trust, 2010), 141–143.
Free Books by Charles H. Spurgeon
We offer free copies of Spurgeon's Advice for Seekers and Around the Wicket Gate. Feel free to take a copy to read or to share with your friends and family. These works have proven to be especially helpful and profitable. You can find them in the shelves at the back of the church. Help yourself to a copy!